Chairman Zhan Guohai's New Year's Eve condolences to frontline employees
---
【Summary】On the night of New Year's Eve on January 24, it was a wonderful moment for thousands of families to reunite and welcome the Spring Festival, and the group employees still stuck to their jobs.
---
1Month24On New Year's Eve, it is a wonderful moment for thousands of families to reunite and welcome the Spring Festival.StillHold onWorkOn the post,Escort for the smooth operation of the device.Zhan Guohai, Chairman of Xinhai Holdings, Wang Zhiquan, Chairman of Supervisors, Hu Jingang, Chief Engineer of Xinhai Group,Xu Weijing, Deputy General Manager, Han Yuechu, Safety Director, Liu Jian, Assistant General Manager, and Li Yunchang, Assistant Chairman of SupervisorsWait for relevant leaders to go to the front-line workshop,To send New Year's greetings and deep concern to cadres and employees who stick to their posts, andFor everyoneSend itCondolences.
Chairman Zhan Guohai and his partysuccessivelyArrive at the central control hall,First-line site such as hydrogenation workshop, continuous reforming workshop, fire brigade, etc.He expressed his most cordial condolences to the frontline staff,I fully affirm their dedication to the front line and their dedication to everyone.
The chairman shook hands with the employees one by one,After learning about the Spring Festival duty in each workshop, the chairman stressed that it is necessary to do a good job in production safety at all times, strengthen on-site inspection, and do a good job in Spring Festival duty,Ensure the safe and smooth operation of the device.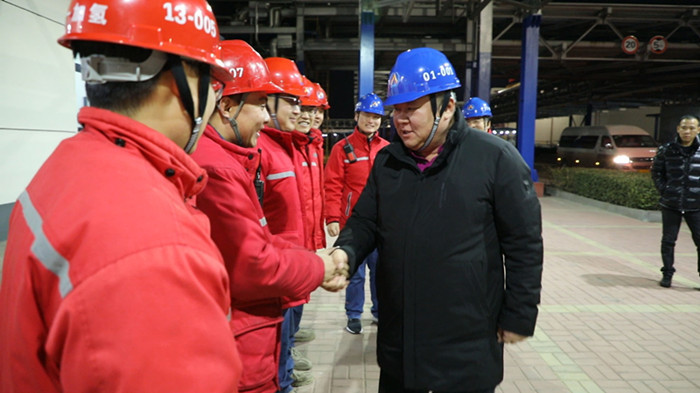 The care of the chairman is deeply warmEvery front-line employee,Employees have said that although they cannot be with their families on New Year's EveReunionbut feltChairman'sStrong love anddeeply affectionate,InIn the new year, all Xinhai people will closely focus on the group leadership with Chairman Zhan Guohai as the core.Around,Strive for the day, live up to the youth, and make unremitting efforts for the strategic goal of "synchronizing the world, leading China, building intelligent and green tourism petrochemical enterprises.
---